Chapter 4

Nature

Internet porn works through hijacking natural reward mechanisms designed to keep you reproducing for as long as possible. Internet porn's instant and highly accessible form keeps the brain's reward mechanism producing dopamine for significantly longer than normally possible. Scientifically, this is called the Coolidge effect, which you might already be aware of.

Dopamine is a neurotransmitter associated with feelings of wanting, with actual pleasure produced by opioids. More dopamine, more opioids and more action. Without dopamine, actions such as eating don't feel pleasurable and aren't completed, with high fat and sugar foods producing the highest chemical release.

Dopamine is also released in response to novelty. With a seemingly infinite amount of pornography available this floods the limbic system (reward circuit), so the first time you see porn you act, orgasming and triggering another flood of opioids. Incentivised to get as much dopamine as possible, the brain stores this as a script for easy recall and strengthens neural pathways through the release of a chemical called DeltaFosB. Now, the brain calls up these pathways in response to cues such as sexy commercials, alone time, stress or even feeling a little down and suddenly you're ready to take a ride on the 'water slide'. Every time this is repeated, more DeltaFosB is released so the water slide is greased, alive and easier to ride down the next time.

The limbic system has a self correcting system to trim the number of dopamine and opioid receptors when frequent and daily flooding of dopamine is detected. Unfortunately, these receptors are also needed to keep us motivated to handle daily life stresses. Nominal amounts of dopamine produced by natural rewards simply don't compare to pornography and aren't as efficiently absorbed by the decreased receptors, leading you into feel more stressed and irritated than normal. This process is known as desensitisation.

In this cycle you crossed the 'red line' and triggered emotions such as guilt, disgust, embarrassment, anxiety and fear, which in turn raise dopamine levels even higher and cause the brain to misinterpret these feelings as sexual arousal.

As time passes, not only is the brain desensitised to previous clips it's seen, but also similar genres and shock level. This lower motivation triggers feelings of lower satisfaction as our brains engage in constant rating, pushing you to find clips to satisfy the hunger. So you seek more novelty, clicking on the amateurish, shock inducing clip on the homepage you confidently said you wouldn't on your first visit.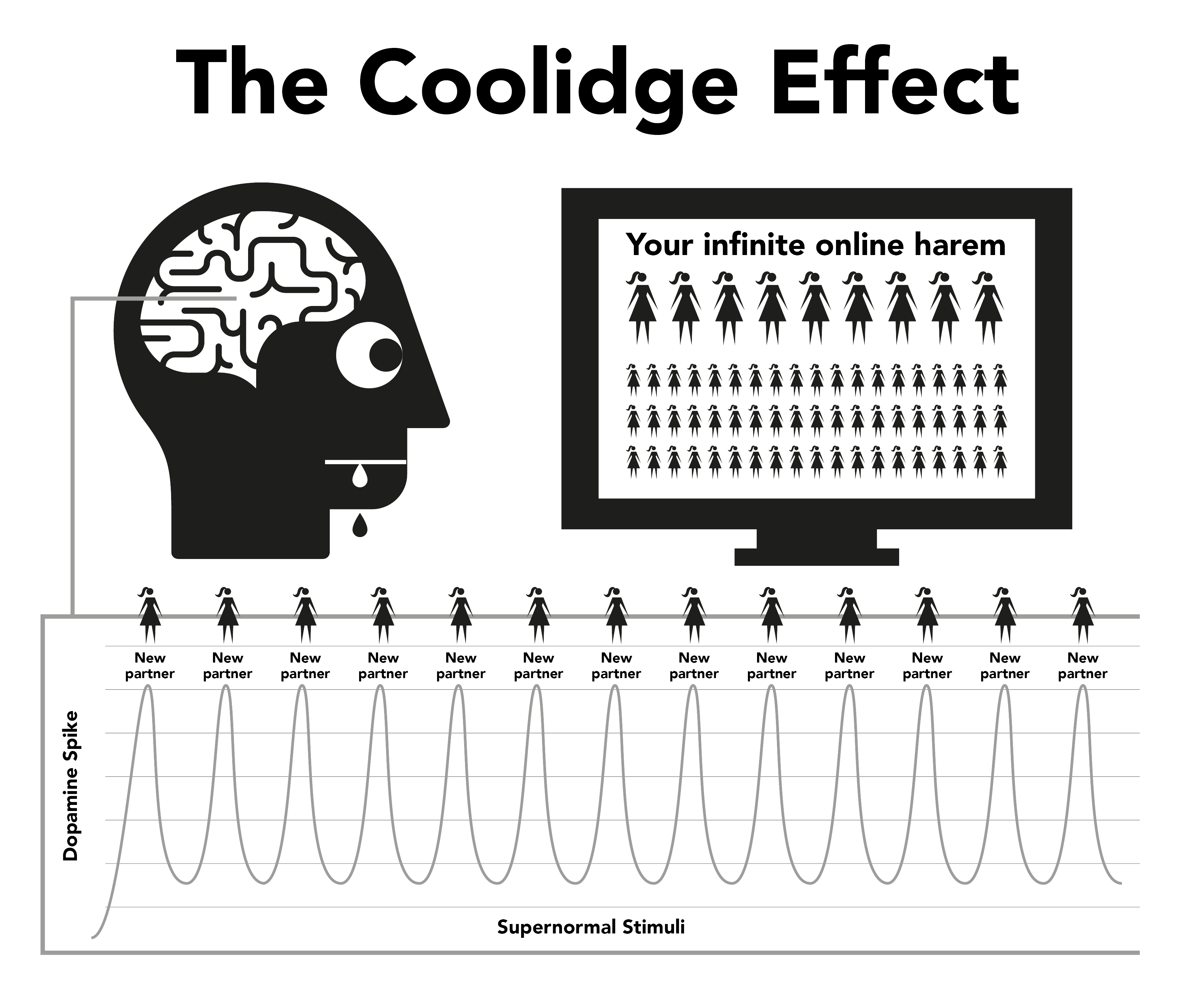 "For in the dew of little things the heart finds it's morning and is refreshed"

— Kahlil Gibran
A fleeting feeling of security is all that's needed to get through a rough spot in life, but will your desensitised brain be able to catch that drop of destresser that a non-user's brain is able to use?
Dopamine flooding acts like a quick acting drug, falling quickly and inducing withdrawal pangs. Many users have the illusion these pangs are the terrible trauma they suffer when trying or being forced to stop. In fact, they're primarily mental since the user is feeling deprived of their pleasure or prop.